Processing Techniques | Quilting Shop
Perfectly sewed – besides the standards we quilt most exceptional materials in most various quilting designs.
Even logos can be quilted in single-needle quilting technique. Our multi-needle as well as our single-needle quilting machines are equipped with modern CNC technology. We have several thousands of quilting patterns at our disposal. In case you need a pattern which is not in our portfolio, we can quickly and easily programme and quilt it. Customer and project oriented – that's our motto. We match your individual demands.
For an extraordinarily good shape retention and durability there are more than 16 quilting machines working in our quilt shop, which can sew with up to 200 needles at the same time. Solid quality and innovative designs are achieved by the CNC controlled plants.
Besides synthetic fibres and natural materials we quilt all textile materials (fibres, textures, knitted or crocheted fabrics, fleece, felt). In the field of technological textiles foam materials, foils, leatherette, carbon and glass fibres are our daily business.
We use both lockstitch and double chainstitch and choose the suitable quilting technique according to application and demand.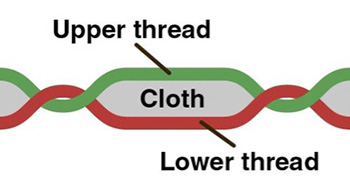 Lockstitch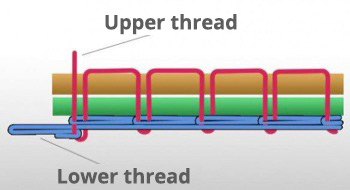 Double chainstitch
The variety of the processed materials and textiles is merely unlimited. Besides synthetic fibres and natural products like cotton, sheep's wool and camel hair we also process technical textiles like felts, fleeces, foams, textures, knitted fabrics, laminates, crocheted fabrics, foils, latex and spacer fabrics.
A small extract from our portfolio:
Mattress covers
All round covers
Border covers
Border as rolled goods
Border as cutting
Air beds
Waterbed covers
Quilted rolled goods for mattresses
Contract quilting
Single-needle quilting
Bedheads
Padding parts
Seats
Insulating mats for caravanning
Insulating mats for aerospace
Flame protection covers
Bedspreads
Crawling blankets
Cushion covers
Dog blankets
Saddle blankets
Fitness mats
Insoles
Handle bars
Grip tapes
Quilted linings
and many more
Whether bulk goods, panels or ready-made articles, we respond customer and project orientated to your demands. We gladly serve as your competent and reliable counterpart.


Your contact person: Frederik Kunz